Bridgeman Images, the world's leading specialists in licensing fine art, cultural, and historical media for reproduction, are delighted to announce an exclusive partnership with ElmonX, experts at the forefront of NFT art creation. This collaboration brings together Bridgeman Images' extensive arts content and ElmonX's innovative NFT technology, offering a unique and exclusive opportunity to create high-quality digital collectibles based on Bridgeman Images' vast collection.
ElmonX has established itself as a pioneering platform for licensed NFT art, specialising in contemporary, modern, and impressionist styles. Leveraging the power of blockchain technology, ElmonX provides a next-generation experience for art enthusiasts, offering collectibles and artefacts that redefine the way we appreciate and collect art in the digital realm.
Highlighting the latest addition to this partnership are four standout, never-before-seen NFTs available via ElmonX.Com from 9am PT (5pm BST) on 23 September 2023 – Save Earth Now and The 5th Dimension, Leicester – based on two 1960s posters by Hapshash and the Coloured Coat, the iconic British graphic design and art duo formed of Michael English (1941-2009) and Nigel Waymouth (b.1941). Their vibrant fusion of art and music played a pivotal role in shaping the visual aesthetics of the counterculture movement. The duo became renowned in 1960s London for their silk-screen printed psychedelic posters in bold colours and intricate patterns, often used to promote concerts and events for musicians like The Who and Jimi Hendrix.
Save Earth Now emerged as an early environmental poster, conveying a message of resistance against the excessive reliance on fossil fuels and the urgent threat of global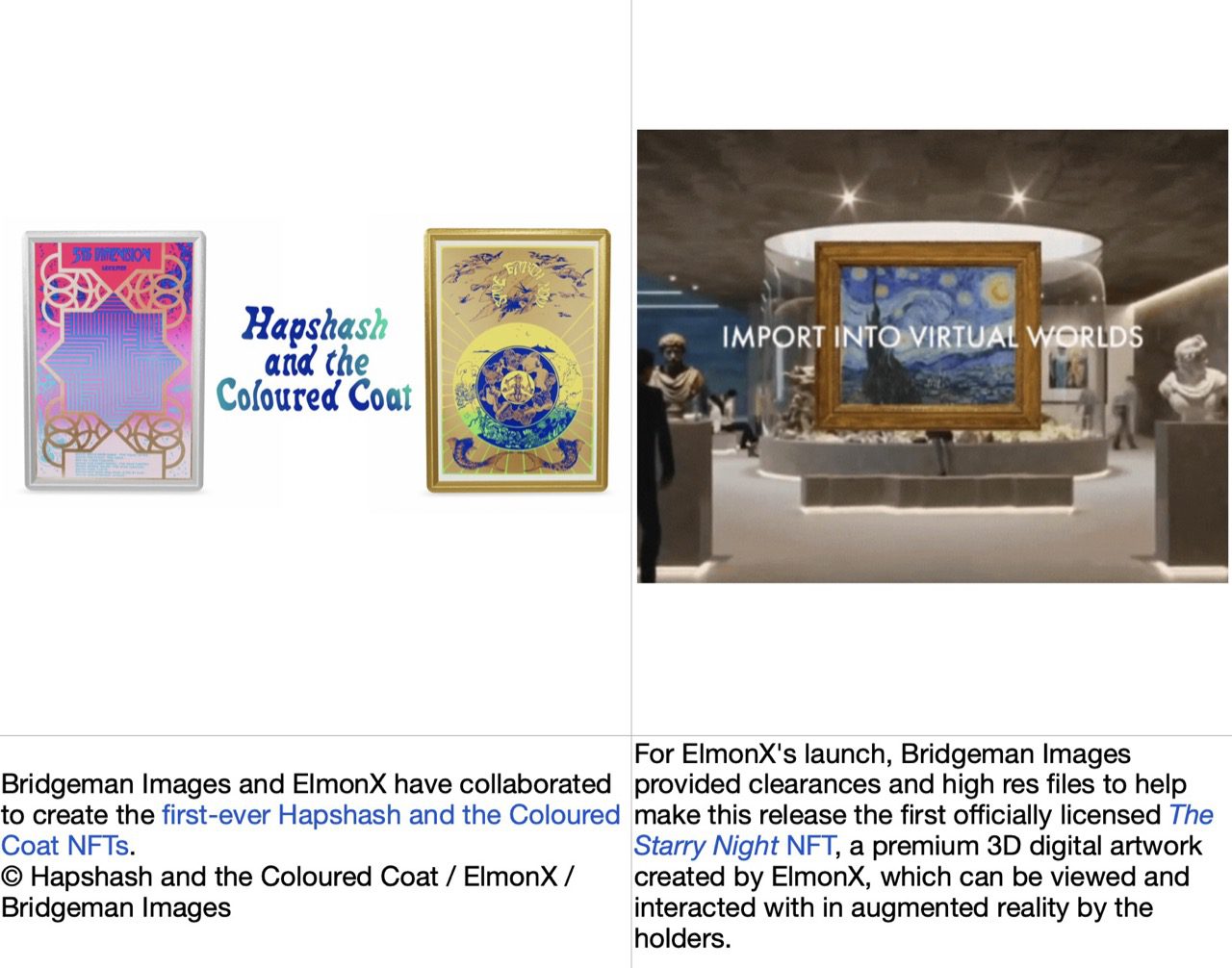 warming. For every sale of this NFT, a proportion of the proceeds will be donated to Greenpeace.
The 5th Dimension, Leicester, was commissioned by the eponymous disco club and designed in a similar style used for the London club UFO, where Pink Floyd performed in the early days.
The available NFTs will be a total of four, featuring both an Original and an Animated version for each artwork. The two original printed posters date back to 1967 and are housed in the collection of London's V&A Museum.
Other digital collectibles created under the partnership so far include: Da Vinci's Mona Lisa and Salvador Mundi (the "world's most expensive painting", worth $450m), Van Gogh's Starry Night and Rodin's The Thinker. With meticulous attention to detail and a deep understanding of artistic significance, ElmonX has successfully transformed these celebrated masterpieces into immersive and digitally collectible experiences. Exclusive releases of limited edition digital collectibles have experienced overwhelming demand, with some collections selling out in mere seconds.
By combining Bridgeman Images' curated arts content with ElmonX's cutting-edge NFT technology, this partnership aims to deliver exceptional visual experiences to art enthusiasts and collectors. The exclusive nature of this collaboration ensures that the NFTs produced will be of the highest quality and will offer a one-of-a-kind opportunity to own and appreciate rare digital artworks.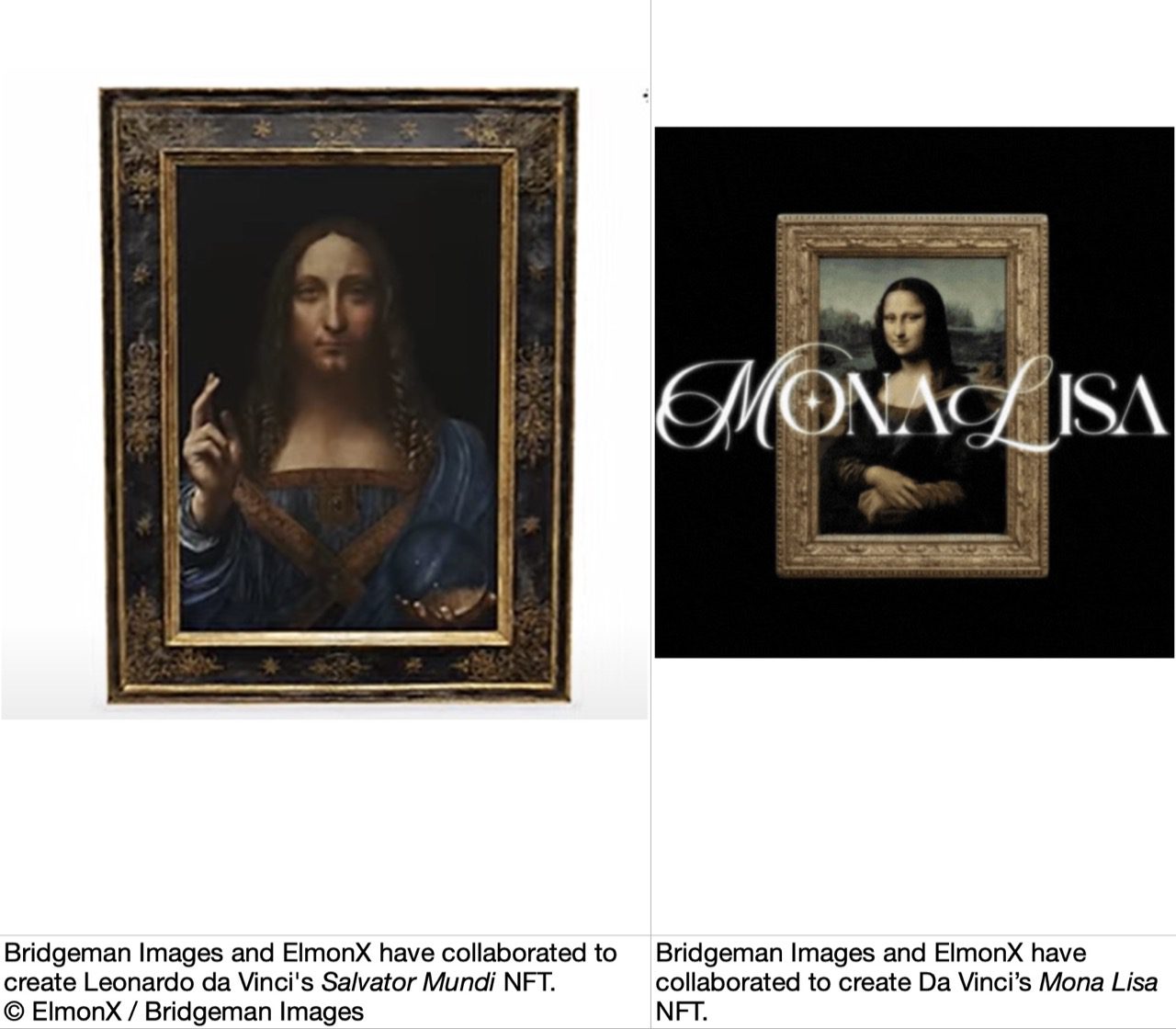 – QUOTES –
"We are thrilled to partner exclusively with ElmonX to bring our arts content to the world of NFTs. This collaboration allows us to showcase our extensive collection in a new and exciting format, opening up new possibilities for artists, collectors, and art enthusiasts." – Adam Goldberg, Head of Sales US, UK & ROW at Bridgeman Images.
"We are excited to embark on an exclusive collaboration with Bridgeman Images, showcasing their prestigious arts content in the dynamic realm of digital collectibles. This partnership allows us to unite the rich heritage of Bridgeman Images' collection with blockchain technology, creating a new and dynamic way to experience and collect digital art." – Jacob Elmon, COO at ElmonX
About Bridgeman Images
Bridgeman Images is the world's leading specialist in licensing fine art, cultural and historical media for reproduction. With a vast collection spanning centuries of artistic and cultural heritage, Bridgeman Images serves clients across the globe, including publishers, advertisers, filmmakers, and creative professionals. With a commitment to exceptional quality and unparalleled service, Bridgeman Images is a trusted partner for all licensing and rights management needs.
About ElmonX
ElmonX, previously known as Vtail, specialises in the creation of licensed NFT (non-fungible token) art. The company's earlier work included the production of artwork in collaboration with Patrick Hughes, one of the most influential artists of this generation.
ElmonX's team of skilled artists and designers create visually stunning and technologically advanced collectibles and artefacts. Through blockchain technology, they offer next-generation pieces that are aesthetically pleasing and transparently verified, providing art collectors with a unique and innovative way to showcase their collections.
The company's focus on art, next-gen collectibles and artefacts reflects their dedication to staying at the forefront of the art world and their commitment to pushing boundaries and breaking new ground. ElmonX's NFT art represents a new era in art collecting. As blockchain technology continues to gain traction, the demand for digital assets and collectibles is on the rise. By creating licensed NFT art, ElmonX offers collectors a new way to appreciate and showcase their love of art. Whether you're a seasoned art collector or a newcomer to the world of NFTs, ElmonX's pieces are sure to captivate and inspire.
The mobile applications will launch soon and contain licensed products. The goal behind the app is to provide collectors with a better experience through animation, digital products, and various interactions.
For more information about how to purchase the four Hapshash and the Coloured Coat digital collectibles, click here: https://medium.com/elmonx/hapshash-and-the-coloured-coat-5th-dimension-save-earth-now-163c5d4e3ea9
Press Contact