FameEX, the global secure cryptocurrency platform, has undergone a significant enhancement of its FameEX Global Agent Program after the TOKEN2049 partners meet-up. This expansion's primary goal is to build the world's leading and most proficient crypto ecosystem. Such an ecosystem is designed to allow every cryptocurrency enthusiast to connect, interact, and convey the central tenets of cryptocurrency: trustworthiness, fairness, and freedom. The ultimate goal is the collective creation of an idealized crypto universe.
Commission Structure Revamped
One of the standout features of this upgrade is the revised agent commission system. To promote the Global Agent Program more effectively, FameEX has taken the bold step of increasing the agent commission rate to a whopping 85%. This move is nearly unparalleled in the crypto world which marks a clear statement of intent. The aim is to incentivize and unite prominent industry figures under the FameEX banner in order to ensure all crypto participants experience transparent and free interactions.

Enticing Benefits for Affiliate Agents
FameEX is sweetening the deal for agents by offering a plethora of rights and benefits. These include exclusive promotional links, real-time access to transaction and commission data, and immediate commission settlement. Agents can earn unlimited commission without minimums requirement and benefit from a low promotional threshold. All these advantages are closely tied to FameEX's core values. By emphasizing the critical role "affiliate" play in the crypto industry's high-quality development, FameEX believes that affiliate agents can bridge the gap, catering to the deeper needs of the public and facilitating the convergence and interconnectedness of the crypto ecosystem.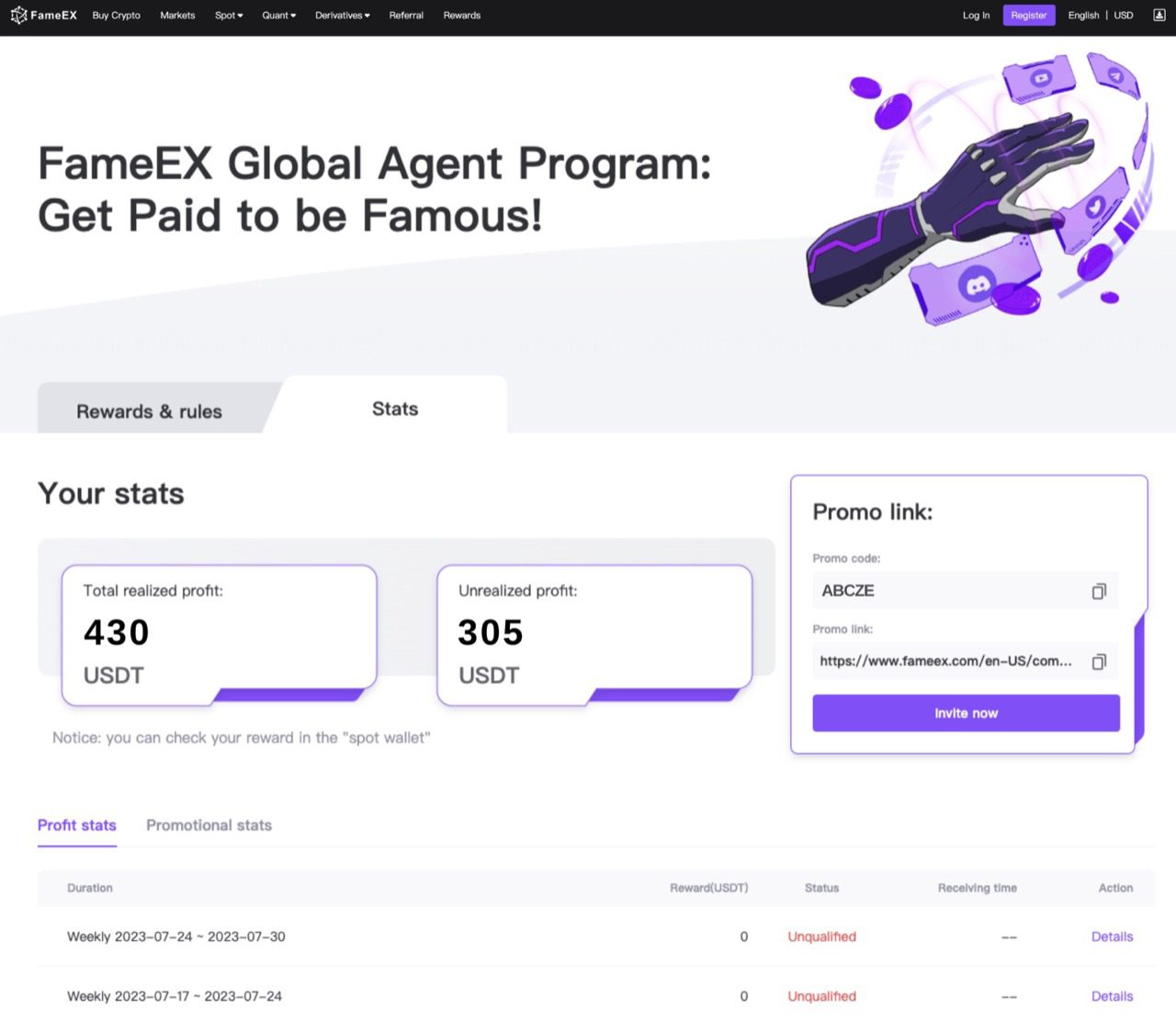 At its heart, the FameEX Global Agent Program, with its focus on "building a crypto ecosystem and sharing crypto profits together," embodies a "affiliate-oriented" value. This ethos seeks to forge a consensus with global agents on various fronts from core concepts to shared profits. By doing so, FameEX envisions rapid synergistic development of the crypto ecosystem. This development will then enable FameEX to provide top-tier services to the public which aligns with its brand mission of minimizing transaction risks and fostering a transparent and free trading ambiance.
About FameEX
Launched in 2020. FameEX is a global cryptocurrency exchange that currently provides fiat-crypto, crypto-crypto, grid trading, futures, options, margin, spot and a hugely popular referral and affiliate program. With more than 1,050,000 registered users across 50 countries and regions. FameEX provides a secure, stable and efficient 24/7 trading platform. In addition, FameEX keeps pushing the boundaries of the crypto exchange industry, exploring frontier growth opportunities and strengthening core competencies, expanding into adjacent product offerings and developing innovative business models that lead the way in bringing Web3 solutions into the crypto ecosystem including recruiting more Web3 developers and researchers to enrich the Web3 product that will support those visionary traders.
Find FameEX on:
Website: https://www.fameex.com/
X (Twitter): https://twitter.com/FameEXGlobal
YouTube: https://www.youtube.com/c/FameEX
Telegram: https://t.me/fameexgroup
Discord: https://discord.gg/V8yvKPxVCk
Trade on-the-go with the FameEX app (iOS/Android)